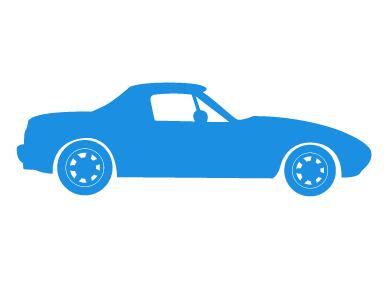 Adrian Flux are proud to be associated with the MX-5 Owners Club, and are pleased to be able to offer members substantial discounts on all car, motorcycle and home insurance purchased. Plus you'll have the added satisfaction in knowing that the club benefits from your purchases too.
Modern & Classic MX-5 Insurance - in association with the MX-5 Owners Club
All this is possible, because we know that Mazda MX5 drivers and enthusiasts are much less likely to make a claim than the average driver, and so we've been able to create special schemes that reward safe MX5 drivers like you.
At Adrian Flux we have a long history of offering MX5 car insurance to our customers. With specially designed schemes for high performance cars, we can offer a high quality MX-5 car insurance policy, whether you drive a MX5 or even a Eunos Roadster or a Miata model.
Adrian Flux is a leading light in the hot hatch, sports coupe and performance car insurance market. As an MX 5 driver you'll probably be used to insurers rubbing their grasping hands with glee as they provide their quote. Well, here at Adrian Flux, we know a lot about the kind of drivers who buy MX 5s and we pull out all the stops to get you the best deal. For instance, we know that drivers who love cars as much as you do take extra special care of them - and that means they're less likely to make a claim.
Mazda MX-5 Car Insurance
Policies Can Include:
FREE Legal Cover
Limited Mileage Discounts
Track Day Cover
Protected No Claims Bonus
Modifications Covered
Grey Imports Cover
Policies for younger drivers
Agreed Value
Non-standard insurances risk (such as convictions) cover
Dedicated telephone number for MX-5 Club Insurance
Multi-car policies
Save money on MX-5 Insurance
Even if your MX-5 is not particularly out of the ordinary, our policies could still save you money. Because our staff are used to finding a policy to suit unusual and even completely unique cars, they know which insurers offer the best policies and at prices to suit almost any budget.
We don't believe in a one-size-fits-all policy, that's why all our policies are designed to suit each customer's individual needs. We offer flexible and competitive quotes for most circumstances, sourcing the best available scheme from amongst the many offered by our panel of over 40 insurers. Why waste your time ringing round dozens of companies when we can do it for you? If you do ring round, come to us last - we will do our very best to beat the cheapest quote you get.*
Due to the type of vehicles insured, all our policies are designed especially for the out of the ordinary and our staff have a high degree of knowledge in this field. This is not an on-line quotation system using computer rates. Instead each risk will be individually calculated by our expert staff.
Our experienced sales staff are knowledgeable in MX-5 car insurance. Along with our many tailor made high schemes we believe we offer the best quotation service around.
To take advantage of the club insurance scheme call the dedicated MX-5 Owners Club quotation line at Adrian Flux on 0800 081 0132 for your quotation. Lines are open 9.00 am to 7.00pm Monday to Friday. 9.00am - 4.00pm Saturday.
* On a like for like basis, subject to normal underwriting acceptance.